Cake Toppers
I have over 24 styles of real wooden Cake Toppers for sale. From only $15, these are really quite stunning value as you'd pay the same price or more for flimsy paper cardstock that other Sellers have for sale. Each to their own, I say.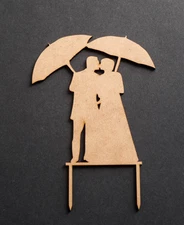 Wooden Wedding Cake Topper. Bride and Groom. Mr & Mrs. 
100% made to order by us, with Australian made MDF Wood.
The MDF will be fresh off the Laser cutter and each one is 
made to order.
 As MDF is a natural resource you may see slight variations in colour, and some scorching from the laser.
Great For Decorating, Scrapbooking, Craft Projects & Table Decor
Delivered Raw & Unfinished. 
Can Be Painted, Stained or Varnished For A More Personal Finish!